BtrPower 2 Pack 12V 100Ah LiFePO4 Deep Cycle Lithium Rechargeable Battery for RV Solar System
Regular price
$416.99 USD
Regular price
$699.99 USD
Sale price
$416.99 USD
Unit price
per
Sale
Sold out
Charge Voltege: 14.4-14.6V
Maximum  Continuous Discharge Current: 100A
Peak discharge current: 200A (Duration: less than 5 seconds)
Max continuous charge current: 100A
Standard charge current: 20A
Over Charging Protection Voltage: 14.6V
Cycle Life: 
> 2000 cycles at 100% Depth of Discharge (DoD),
up to 5000 cycles at 80% DoD
Discharge Temperature: -20℃~60℃
Charge Temperature: 0~45℃
Dimensions: 325x170x214mm/12.8x6.7x8.42in
Safety And Eco Friendly: 
The 12V battery pack has a 100A BMS that can balance the voltage to prevent the battery from overcharging and discharging,provide limit current protection.The battery can be used for your applicaiton that allowed rated current less than 100A.
Powerful: Our LiFePO4 battery has a very stable output voltage platform with 12V for 90% of its capacity usage, providing astronomical boosts in run-time compared to Lead Acid batteries. The battery is easy installation. Last 8 to 10 times longer than standard lead acid batteries. It can support fast charging and solar panel charging.
Capacity Expansion: 
This battery pack can be used in parallel to increase the capacity you want.
Special Note: 50% lighter than 100Ah lead acid battery, no memory effect, no matter what state the battery is in, it can be used as soon as it is charged. Lithium iron phosphate batteries from different manufacturers cannot be connected in parallel or in series.
Please contact me for anything you want to know about battery pack.Thanks.
Package List
2x 12v 100A LiFePO4 Battery Pack (Charge and discharge from the same wires)
This pack doesn't include the charger
Warranty

1). 30 days money back guarantee on all orders if you're unsatisfied for any reason with one of our batteries

2). 1 year warranty on all orders

3). Lifetime technical support
Shipping & Returns

USA :  3-7 Business Days

Canada : 7 - 10 Business Days

UK : 2-7 Business Days

Eurpoe  :  2-7 Business Days

3 Months Free Return
Share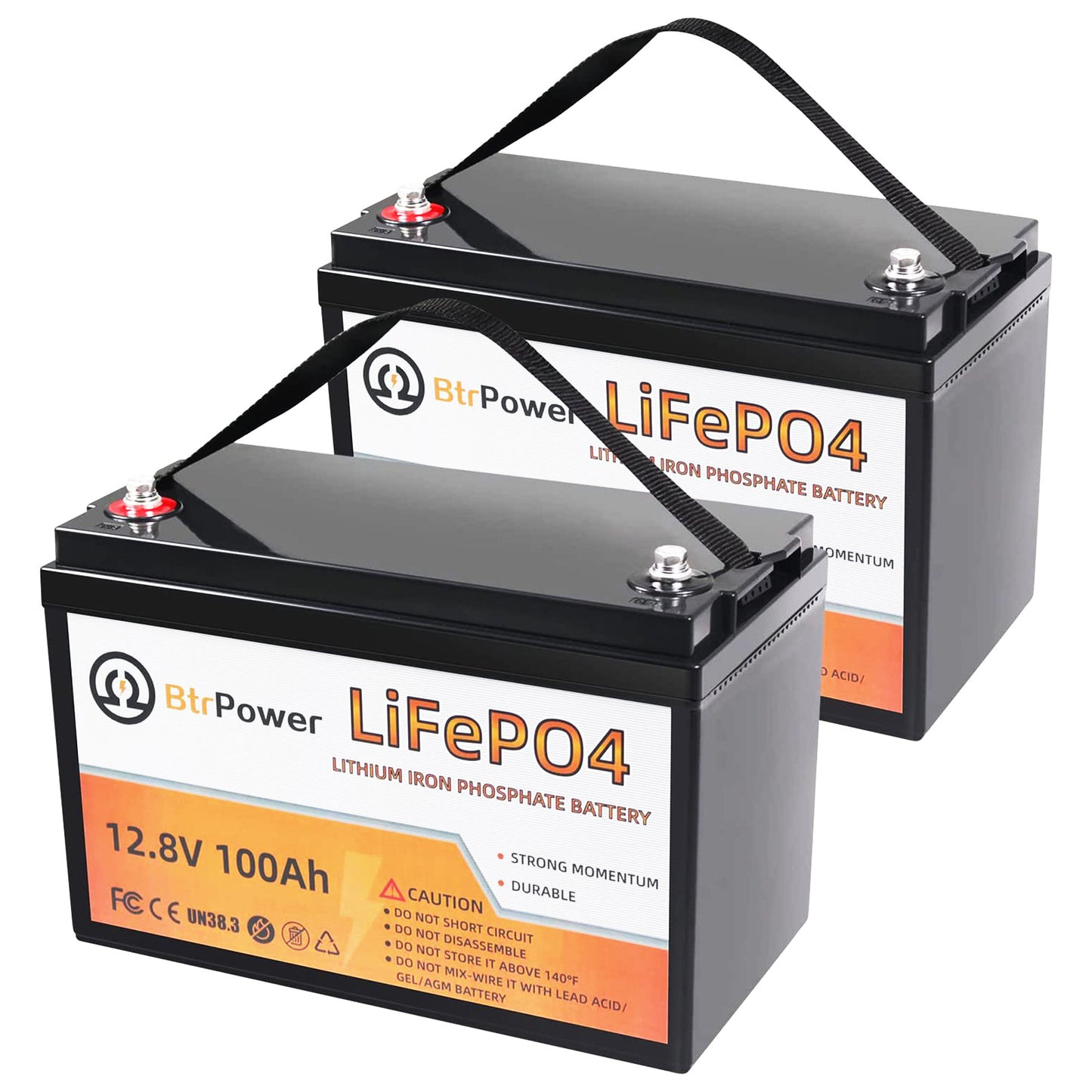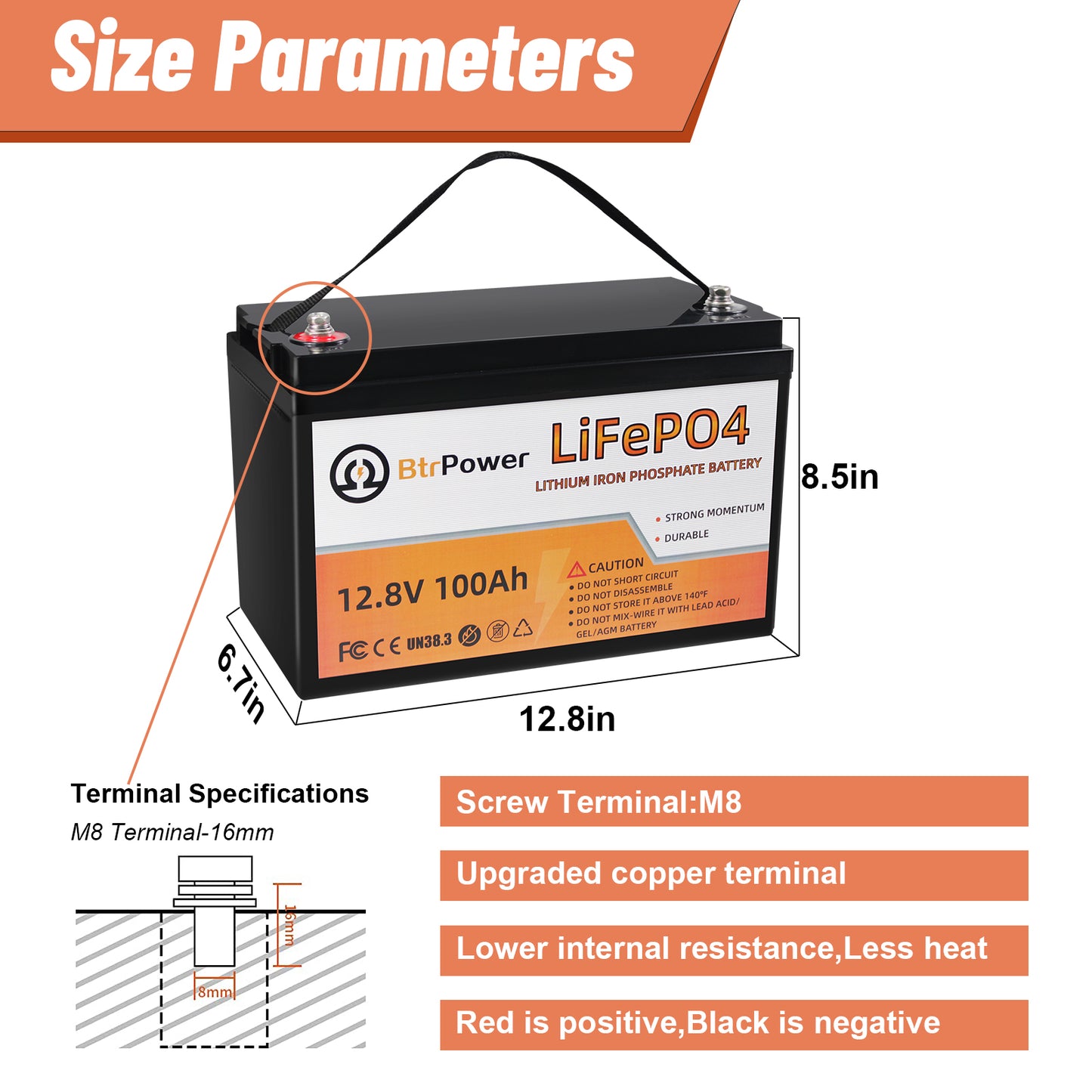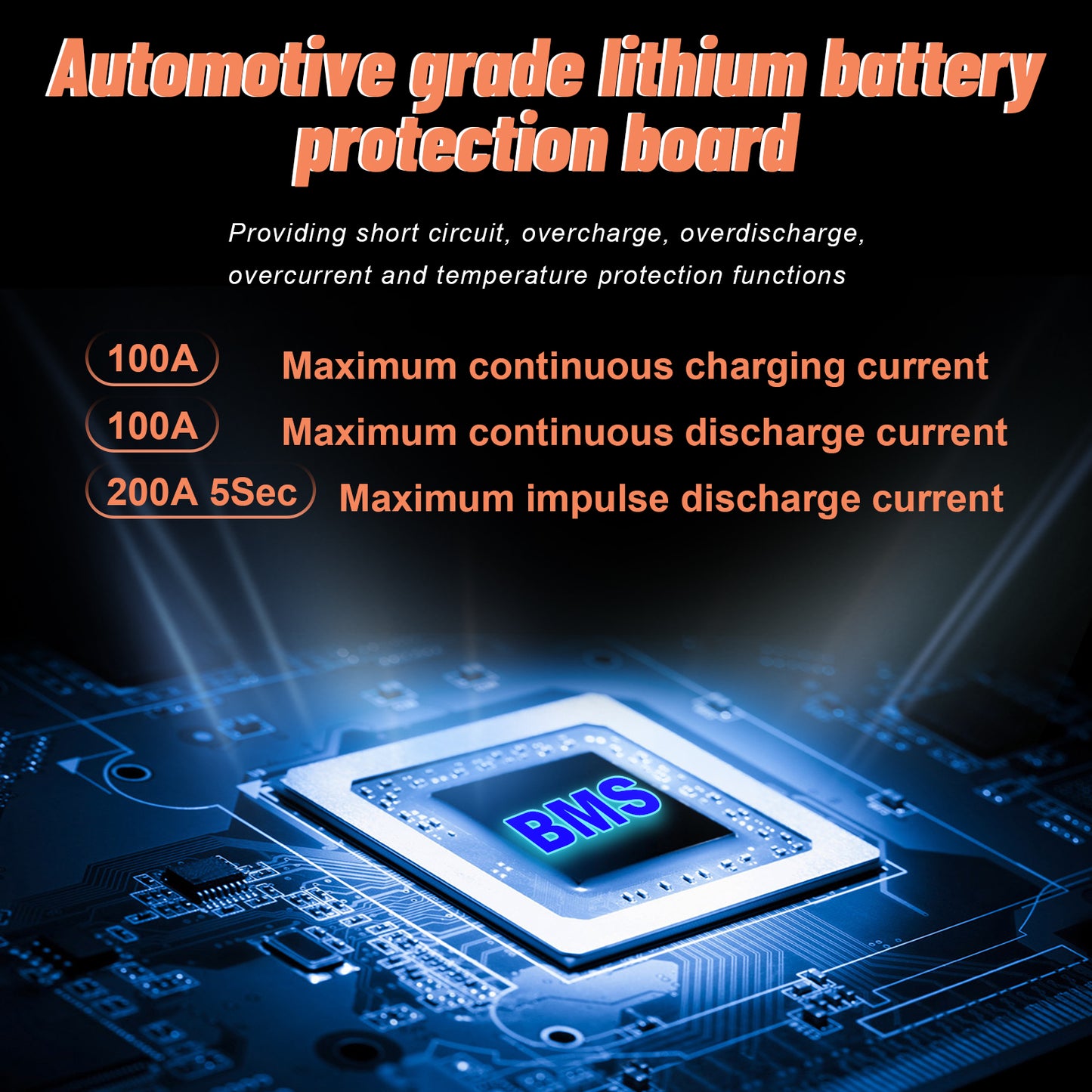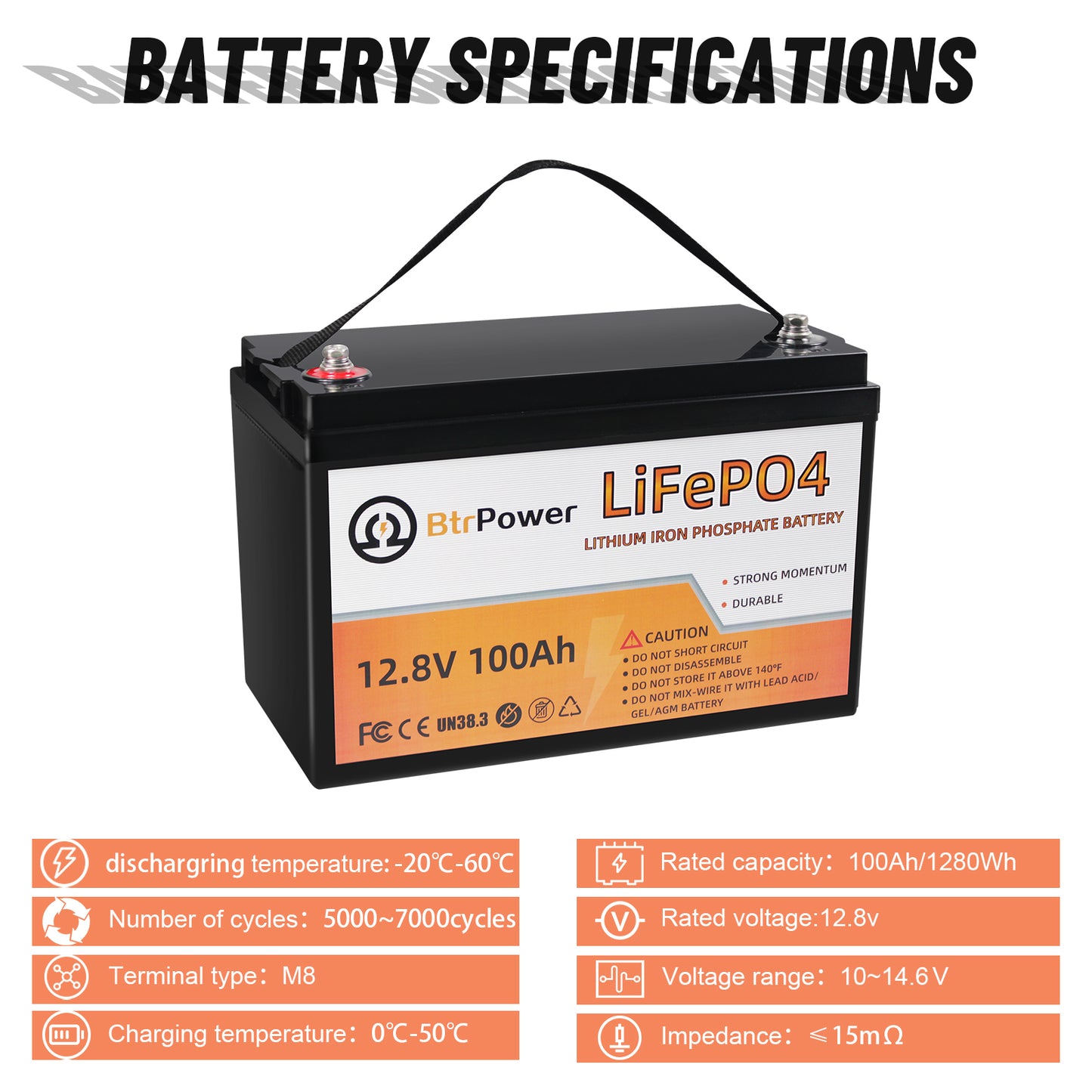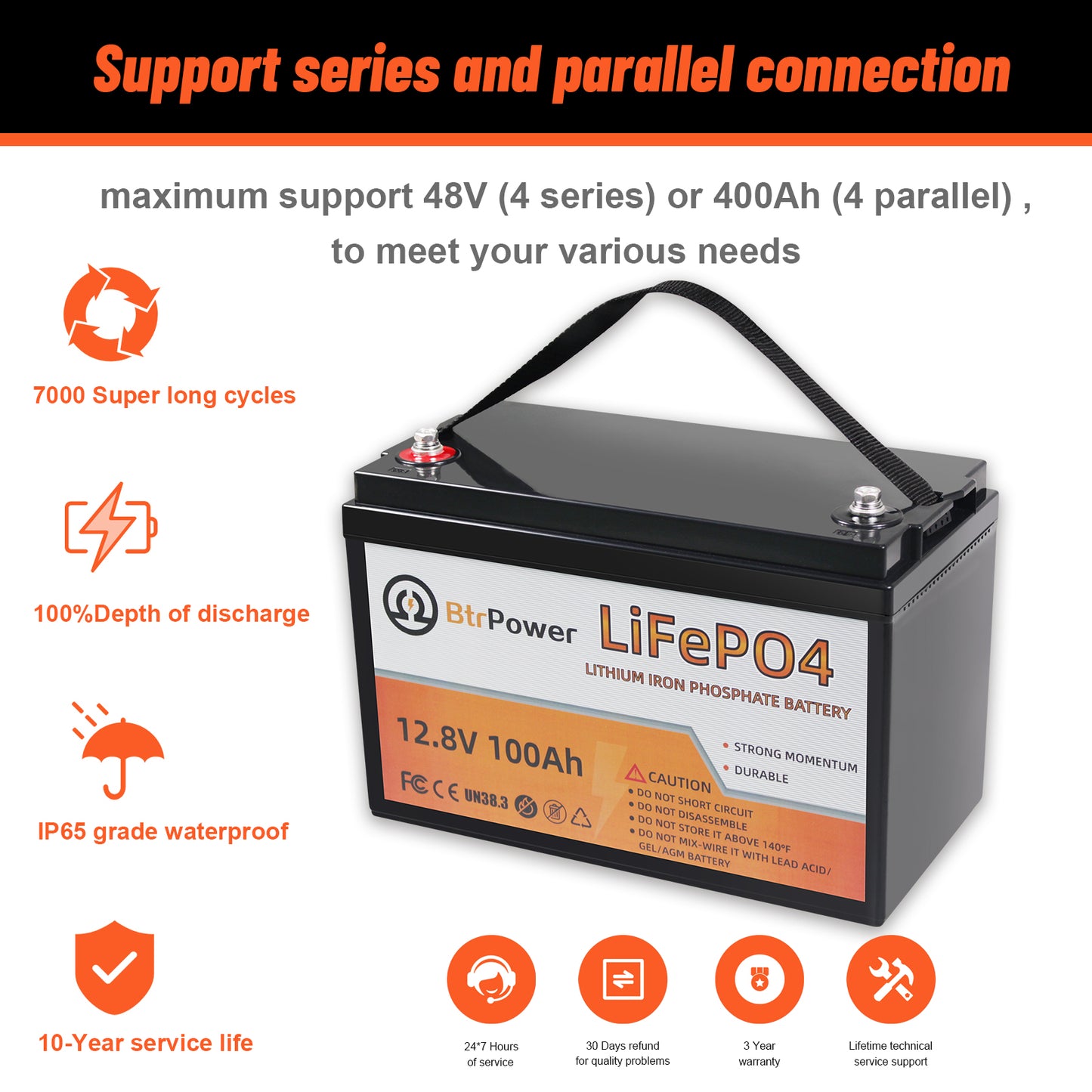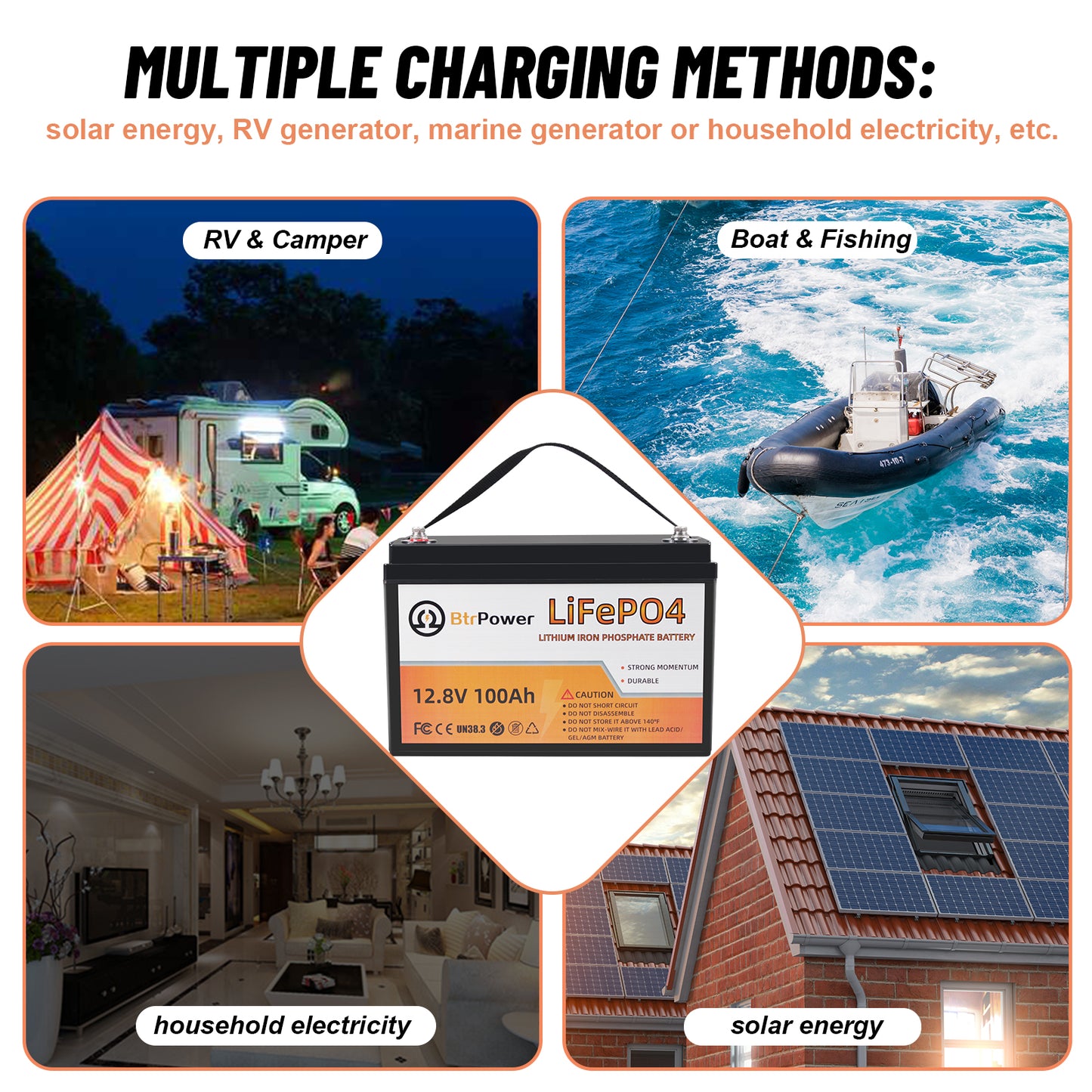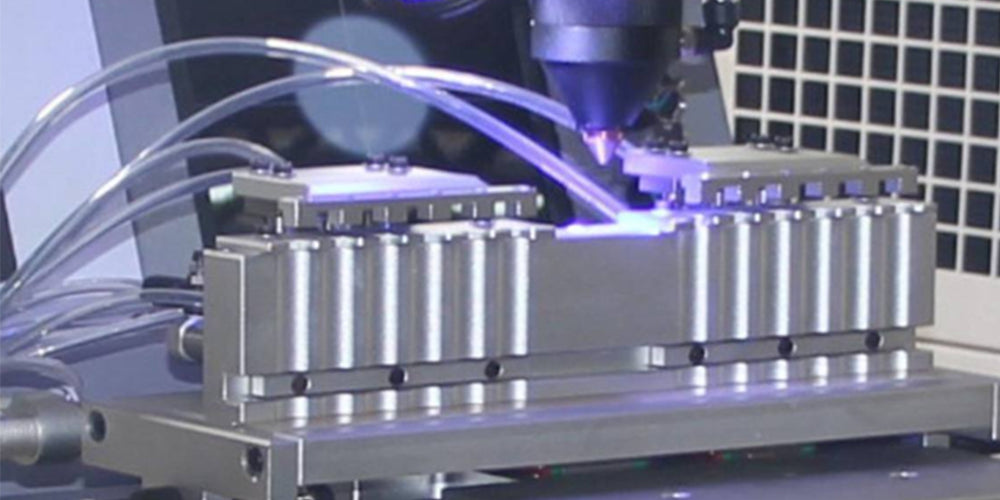 Laser Wedling
Our battery production process is 80% automated.
Battery sorting, screening, assembly, and welding are all done automatically by machines
More efficient for production
More Reliable for Quality
Our goal is produce produce reliable and less cost lithium battery for customer